RFID Laundry Management

As RFID becomes more and more popular, it is used in various fields. From hospitals and health care to hotels and entertainment venues, the demand for tracking clothing and linens is increasing in many markets for a variety of reasons.
Hospitals need to track linens and materials not only entering and exiting facilities, but in many cases from floor to floor and room to room. Hotels need to ensure linens are available for guests. And with the rising cost of cotton, loss of items can have a significant impact on a hotel's bottom line. There is an explosion in usages for washable RFID tags. Technology advancements, lower costs and complete solutions are among the reasons to consider automating the tracking of linens, towels and uniforms.
Solution Function
UHF RFID tags sewn onto flat linens, and hospitals/hotels use handheld readers to gain further data of the linens.
The RFID technology enable hotels/hospitals to easily view when goods are received, laundered and shipped to customers, and to thereby gain visibility into where those items are located, as well as which are delayed or may be missing. Learn how the use of passive UHF allows the hotels/hospitals to better manage its inventory of linens to prevent losses, while providing its customers with access to the collected data.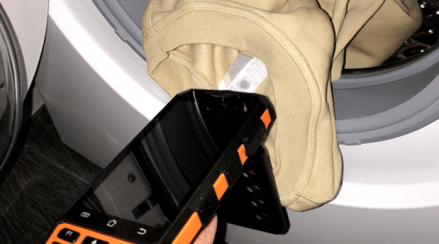 Solution Components
CIRFID can provide a complete laundry solution, consists of RFID laundry tags, either heat-sealed or sewn to linens, towels and other laundry, as well as RFID readers installed at the laundry facility, and our RFID software to manage data regarding tag reads, store information and display alerts.
The RFID systems automatically track and record laundry activity, and manage inventory, repairs and billing.
All the RFID laundry tags are rugged, they can withstand hundreds of industrial washings at high temperatures with bleach and other chemicals, as well as repeated ironings. the laundry tags usually outlive the uniforms and other linens they track.
Rugged Integrated UHF RFID Reader